Question: what is the dynamic between President Putin and President Xi as shown in the cards, and what will be the consequences of this recent meeting in Moscow for the outcome of the war in Ukraine and beyond?
#Tarot #Ukraine STANDS. President Xi twitchy, non enthusiastic, doesn't want China bogged down by Putin. But wants to give P just enough to defy western hegemony yet without alienating western business. Tricky tightrope for Xi. Turkey & Japan tense. Aries season will be LOUD.
2/ But if Xi is careful, canny, Water Rabbit year, carefully does it, he is quids in. He will have Putin/Russia over an (oil and gas) barrel, literally, and even though that particular pipeline is years off completion- Xi is securing others. Hierophant. Taurus Money king. #Tarot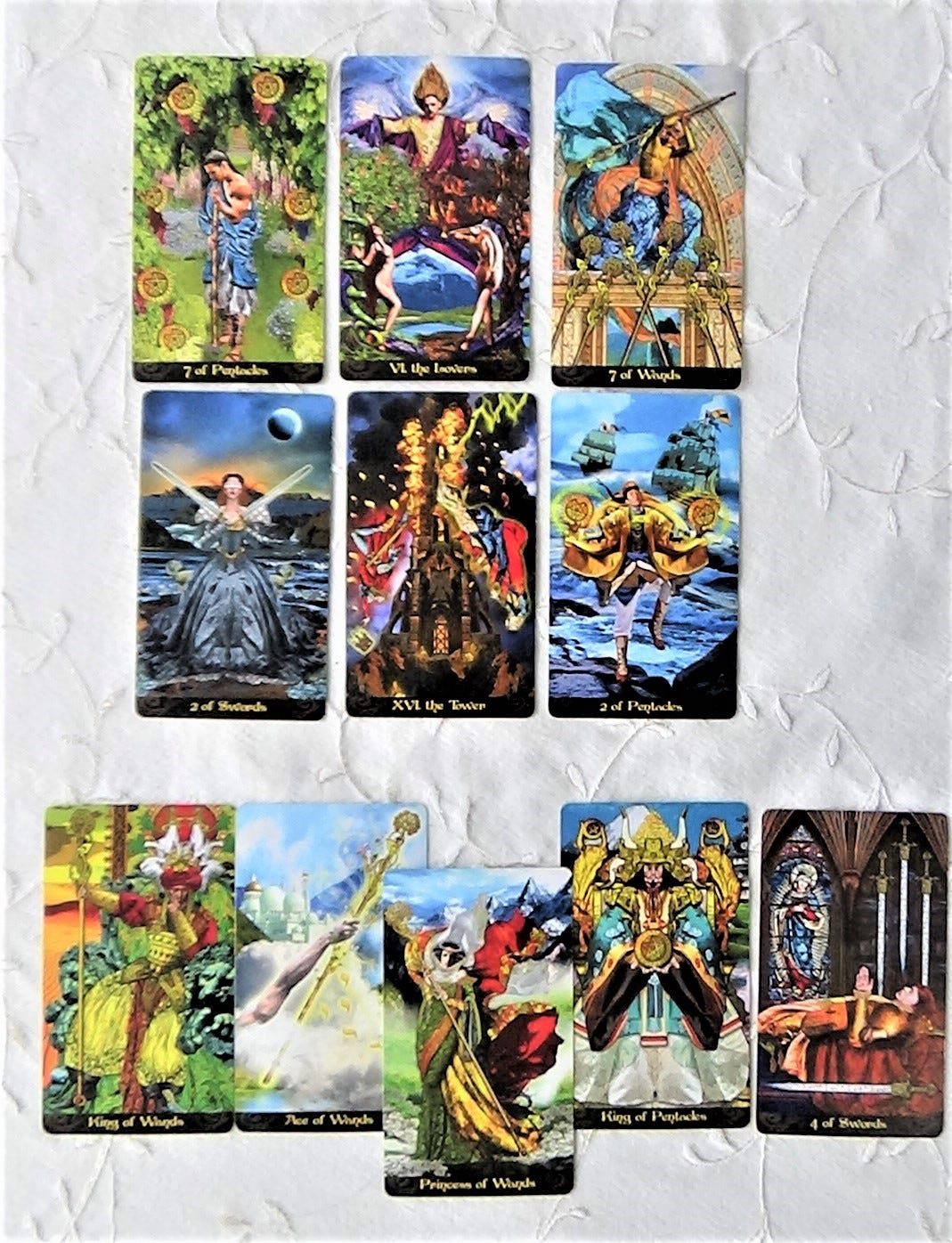 TOP ROW: PUTIN 7 Pentacles- THE LOVERS- 7 Wands
MIDDLE ROW: XI 2 Swords -TOWER – 2 Pentacles
BOTTOM ROW King Wands-Ace Wands-Princess Wands-King Pentacles-4 Swords- comments, short term developments
It is striking to notice the symmetry of the sevens cards either side of the central card The Lovers, especially as it is mirrored by symmetry of the twos cards either side of The Tower on Xi's row of cards.
7 Pentacles classically signifies great efforts with little to show for it.
The Lovers signifies Putin's hopes of a partnership with Xi on equal terms. Russia, after all has the gas and oil that China needs. Additionally it may signify discussions that focus on ideas or decisions to be put into action during Gemini season-late May-late June 2023. Gemini can mean intel, surveillance,drones or weapons deployed for air attack.
7 Wands classically indicates defiance, determination, a sense of moral righteousness and can be detecting critical events to occur during the third decan of Leo season. This decan is ruled by active or downright aggressive Mars, and correlates with dates 12-22 August
The 7's in tarot are laborious. They are slow. Heavy going. The fact that Putin's row of cards both starts and ends with a 7 card suggests that he will get the minimum support from President Xi, for all the helpful noises Xi may be making as shown by The Lovers card. Empty words. Help may be forthcoming, and it may include military technology or hardware but if so, it doesn't seem to do much if anything to accelerate Russia's military progress or advantage in Ukraine.
The clear suggestion here is that the meeting between Putin and Xi will have little direct effect on Russia's ability to escalate the war against Ukraine. That slow 7 does not speed up. We start with a 7 and we end with a 7. It speeds up a little. The earth suit card, the 7 Pentacles (Taurus) is slow. The 7 Wands (Leo) is fiery, somewhat faster. But this is no real uptick in tempo. Whatever Putin might be hoping for, he seems unlikely to get it from Xi based on this lack of change in pace or scope across the tarot storyboard, for all the friendly words between them, at least in public.
The inference. Xi does not NEED Russia to win in order for China to get what it wants from Russia. Cheapest oil and gas. Whether China helps Russia or not. Whether Russia wins or loses- however victory or defeat is to be defined in this situation- China will have a strong bargaining hand in trade with Russia, and Xi knows it.
Xi can afford to stand by-that 2 Swords and the 2 Pentacles. He is no hurry to see a Russian victory. He reckons that this disastrous war may actually buy China both leverage and a breathing space of time to build back its own economy post- covid, as represented by The Tower card (correlating with Mars=War and the Pandemic )
Does Putin see this? Surely he does. But he sees that he simply does not have the luxury of choice in this partnership, or certainly not at this juncture, to strain this 'partnership without limits' by bringing pressure to bear upon Xi.
Others close to Putin will obviously know it, too, and they don't like it at all.
That final Four of Swords is a card of stalemate and retreat. A knight is in his tomb.
This the card of hospitals, while the 10 Swords (ruin, sometimes sickness) has made countless appearances in readings since February 2022, saying this will not end well for President Putin, personally.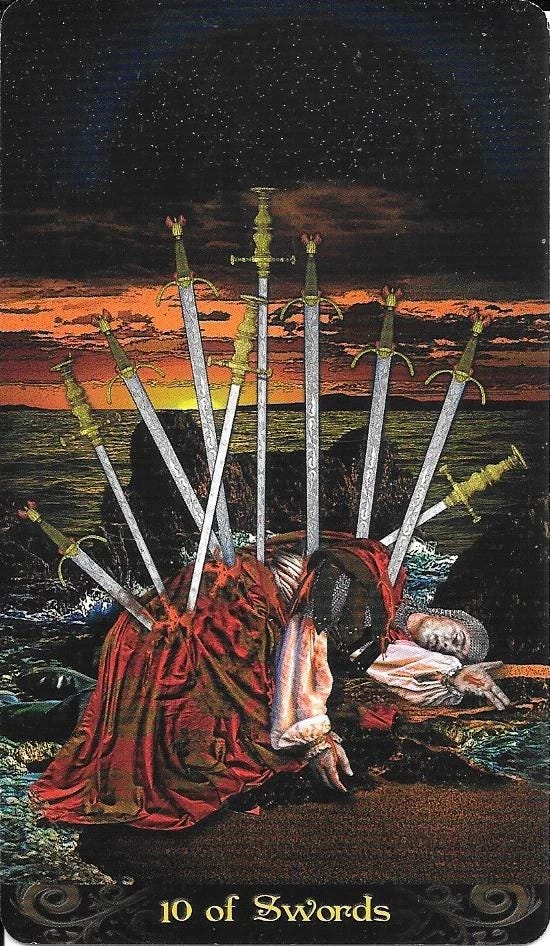 The 10 Swords correlates with the third decan of Gemini. We may find that the dates June 11-June 21 may prove pivotal for Putin, though it might well be late in 2024 before this card manifests in terms of concrete developments in respect of Putin position in power.
The 'Final' outcome of this war of Russian territorial conquest : no one can say, and the future is mutable. But the cards have been consistent since February 2022 that Russia fails to take Kyiv. Ukraine survives as a sovereign territory. The territorial integrity of the entire Baltic region is at stake, even if this is a prospect way beyond Russia's present capability, and is a direct threat only in principle. Finally, Ukraine is receiving the fighter jets it has been asking for- Migs supplied by Poland and Slovakia. Can Ukraine take back Crimea? The cards indicate that this might be possible if it was a question of Ukraine's will to do it. But they won't get the support. Ukraine is not only smaller but very angry that promises have been broken and betrayed.
"Three decades ago, the newly independent country of Ukraine was briefly the third-largest nuclear power in the world.
Thousands of nuclear arms had been left on Ukrainian soil by Moscow after the collapse of the Soviet Union in 1991. But in the years that followed, Ukraine made the decision to completely denuclearize.
In exchange, the U.S., the U.K. and Russia would guarantee Ukraine's security in a 1994 agreement known as the Budapest Memorandum.not only by Russia which then broke 2 peace treaties, but by the West, which promised Ukraine protection in exchange for their agreement to surrender of their own nuclear weapons capability."
The tarot has not shown either an ultimate Russian or a Ukrainian victory. There are only losers here. Except that the signs all point to the survival of Ukraine as an entity in its own right. Russia fails to take Kyiv and for Putin, that means failure- that Ten of Swords.
This is only one reader's interpretation, and of course, it needs no saying, tarot card readers are not omniscient. But tarot is what I know. And what I see, or do not see, is what I can share.
Thank you for reading. Back soon. In the meantime I'll leave you with a video demo of the deck that we've been looking at today; the Tarot Illuminati.