Painting Andrea Camassei 1635, Museo del Prado
Once upon a time there was a fertility festival called The Lupercalia. Men in wolf masks ran about the streets of Rome, and in honour of the fertility god Lupercus and in memory of the she-wolf who suckled Romulus and Remus, would symbolically thrash (lightly touching) any women they met of child-bearing age. Any woman not wanting to be fertile had better stay indoors. But some would deliberately loiter in the streets, hoping to encounter the wolf men.
Later Christianity claimed the festival, originally held on February 15th, renaming it in memory of poor Valentine, a physician who was cruelly beheaded in Rome after doing many a good turn to other people, including the daughter of his jailer, whom he apparently cured of blindness.
The violent death of a well-disposed person on religious grounds. What could be less romantic?
Valentine's Day is nowadays an uber commercial-fest, but, still, it serves to remind us, if we ever needed a reminder, of the eternal power of that magical experience of the human condition – 'that ol' Devil called Love'.
The Devil however, more truly speaks of infatuation than love. The Devil card in the Tarot speaks of passions and powerlessness. It betokens entrapment, frustration, a need to break free, even if the wish is not there.
Look at the picture below. The man and the woman are being held in bondage to one another and to 'the Devil'…by the power of their animal nature; their physical passions (food, sex, drugs, alcohol, daily habits etc) to which they are 'addicted'. In terms of human body chemistry, sexual passion might as well be regarded as an addiction.
Rider Waite Tarot, artist Pamela Colman- Smith
I've only once encountered what you might call a vampire, in my professional reading work. But this was the nature of the beast.  A Valentine gone to the Devil.   And this has been a unique event in my reading experience, a reading that left me so physically drained I had to go straight to bed afterwards, where I slept like a stone all night, but not in a good way.
The client was a very pleasant person to read for, but she was in the grip of 'the Devil' all right. She was married, but with a passion for another man, also married. This was a likable, congenial, good looking and glamorous lady and I could tell from the cards that the man had powerful charisma. In fact I had an outright 'psychic' moment and guessed who it was and said his name. He was someone who worked in the entertainment industry.
The lady was extremely shocked that I had guessed his identity (although no more than I was!)  She asked, rather sharply if I knew him.  And I did not.  I had never met him. But he had a public profile and all at once I seemed to 'see' him in my cards, looking out over her shoulder.
Would she get this man for keeps? I felt she might get a taste of what she was hoping for. She might get time with this man. But if she did, I could see no 'happy ending.'
It was like being in a negative vortex. I hope she got free one way or another and was happy. But that man moved away to the US and whether or not she went with him, something tells me differently.
It is a curious thing, that often there will be a succession of readings all dealing with the same card as their main focus. The Devil has turned up in 3 readings just recently, each time drawn with the Moon card, which signifies hunting, fantasy, and emotional extremes. Obsession. Illusion.
In each case, someone was having a hard time, struggling to let go of a romantic relationship though they had decided that they must. They no longer felt wanted or even welcome in the relationship.
One of these clients was now in danger of starting to behave like a stalker, and I had to warn them against certain plans, although on none of these subsequent three occasions did I feel the same physical impact of the 'show biz' client.
Perhaps this was to be expected.  A showbiz  sized ego is likely to carry a highly charged aura, to be anticipated in such readings, and when we talk about a vampire in real life, this is what we're talking about. A habit, an encounter or a situation that can physically utterly drain your batteries on contact.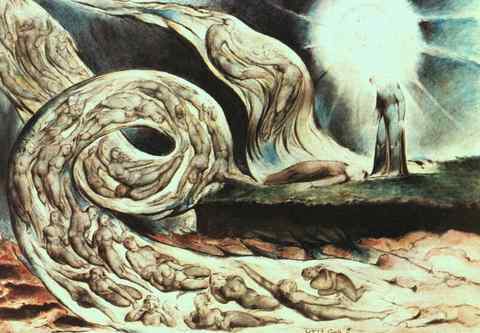 William Blake's illustration, 'A Whirlwind of Lovers'…from Dante's Divine Comedy. Obsession Has Consigned the Lovers To A 'Circle Of Hell'…in Tarot…captivity, servitude, an dependent, obsessional and un-free state of mind.
The Devil card drawn upside down or  Ill-Dignified, is usually better for being drawn upside-down, as it often denotes clarity and liberation.
If you are trying to give up a habit that's proving harmful, this card drawn reversed it's a sign you're going to be able to kick that habit, or break out of that trap.
The Devil card is known, and with justice, for its powerful negative aspects. It speaks of fear, frustration, anger, unhealthy habits, obsession and addiction, and the evil that can ensue from these things. Usually, the situation that it's referring to could do with overturning.
The tough news is that it's going to have to be you that overturns it. No one else can do it.
Possibly too, there is no real solution as yet, and the situation meantime must  be endured.  Now it is a case of damage limitation.
But The Devil isn't all bad. As an image of Pan, god of all wild creatures, rather than in its guise as Christianity's Devil, this beastly card is still strong stuff requiring careful handling but it signifies desire, animal magnetism, focus and  passion…
Artist Helen Stration 1914
The Devil is a sexy beast. It is charisma. It is a drive and passion to create. It is our connection to our roots in earth and our general animal vitality – (steady tiger!) –  a strong glue for keeping relationships together over the long haul. As they say, a little of what you fancy does you good.
The anger of The Devil comes in handy now and then, should you be unfortunate enough to find yourself dealing with nastiness.  Let that Devil look out of your eyes, as you politely say 'I beg your pardon?'
Subtext.  'You had better back off!'
If a glimpse of your inner Devil clears some cr*p out of your space, there's nothing the matter with that.
No. The Devil is not always bad. The challenge is to keep him in his place and not feed him too often.
Just make sure it's your devil, or your cheeky imp, that's under control, locked up inside that cage.
And not you.