`
Tweeted today 11 April
What is President Putin's current feeling and assessment of the present situation in Ukraine?
No validation available. Tarot Snapshot Putin's view/attitude of current state of events in #Ukraine Yet AGAIN we draw 10 Swords. Pain/Ruin (watch late May-late June) Hierophant Rev= Taurus 20 April. Worries re money/keys. Fear of not securing 2 critical 'keys' -Donetsk/Luhansk
Deck used: The Illuminati Tarot
Card Meanings: betrayal, defeat, ruin, destruction, rock bottom, headaches, throat, spine ailments. Darkness before the dawn. Associated dates late May-late June (Gemini)
For clarification and context, the reader draws a second card.
The Hierophant was drawn reversed next to it.
Card meanings: UPRIGHT Pope, organized religion, faith, tradition, Banks, finance, agriculture, keys, publishing, universities. REVERSED bad advice, tradition that has become a tyranny, the unorthodox, or intolerance of the unorthodox, money losses, crop failure, marriage breakdown, lost keys
Lost /missing keys. Putin NEEDS to show gains, Donetsk, Luhansk and Mariupol. Keys not claimed. Keys still denied.
Also, 2 more Hierophant keys (established order) What is this news about Sweden and Finland possibly joining NATO as early as this SUMMER??
Interestingly, I have already drawn these same cards on several previous occasions when asking to be shown Vladimir Putin's situation. The Tarot has been consistent here.
The Hierophant can- rarely- actually refer to the pope in the literal sense. Did I miss something? (Goes off to Google) Aha. So I did.
SOURCE: The Guardian, 18 March 2022
Pope Francis denounces 'abuse of power' in Russia-Ukraine war
Pontiff asserts Ukraine's right to exist as a sovereign state and to defend itself against Russian invasion.
Pope Francis has denounced the "perverse abuse of power" on display in Russia's war in Ukraine and called for aid to Ukrainians, whom he said had been attacked in their "identity, history and tradition" and were "defending their land".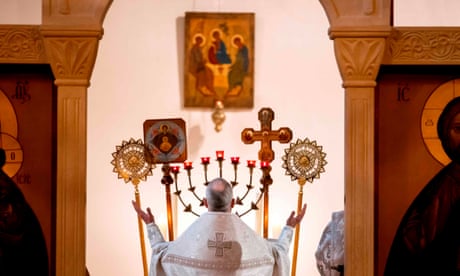 Francis's comments, in a message to a gathering of European Catholic representatives on Friday, were some of his strongest yet in asserting Ukraine's right to exist as a sovereign state and to defend itself against Russia's invasion.
They came days after he told the head of the Russian Orthodox church, Patriarch Kirill, that the concept of a "just war" was obsolete since wars were never justifiable and pastors must preach peace, not politics.
Those comments, during a video call with Kirill on Wednesday, were an indirect criticism of the patriarch's apparent defence of the war. Kirill, who is close to the Russian president, Vladimir Putin, has seemingly justified the invasion by describing it as part of a struggle against sin and pressure from liberal foreigners to hold "gay parades".
He has blamed the west and a fellow Orthodox patriarch for fomenting enmity between Ukraine and Russia and echoed Putin in insisting they are "one people".
In his comments on Friday, the pontiff did not mention Russia by name – the Vatican traditionally does not identify aggressors and has attempted to maintain a dialogue with Kirill's church – but he strongly backed Ukraine.
"The heartbreaking scream for help from our Ukrainian brothers pushes us as a community of believers not just to serious reflection but to cry with them and work for them; to share the anguish of a people wounded in its identity, history and tradition," Francis told the meeting in Bratislava, Slovakia.
A lasting ceasefire may be some months off yet. It looks like months, not years. These 2 cards suggest that late April-late June could be critical turning points in this conflict in which many, including my own mother born 1939, are seeing the devastated city of Mariupol as a new Stalingrad; a moral triumph for the Ukrainians, whatever the outcome, and again, whatever the outcome, a dark and infamous mirror image of those Russian heroes of the Battle of Stalingrad, fighting in defense of their own hearths and homes.
If they are the same people, as Putin says, if Ukrainians are their brothers, this is how they treat their brothers?
The Hierophant reversed is about tradition -rules. Putin cares nothing for the rules, unless they are his own. The next couple of weeks may be especially dangerous.